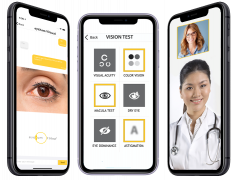 Leading telemedicine company partners with foremost mobile eye care app to deliver virtual visits connecting eye care providers with consumers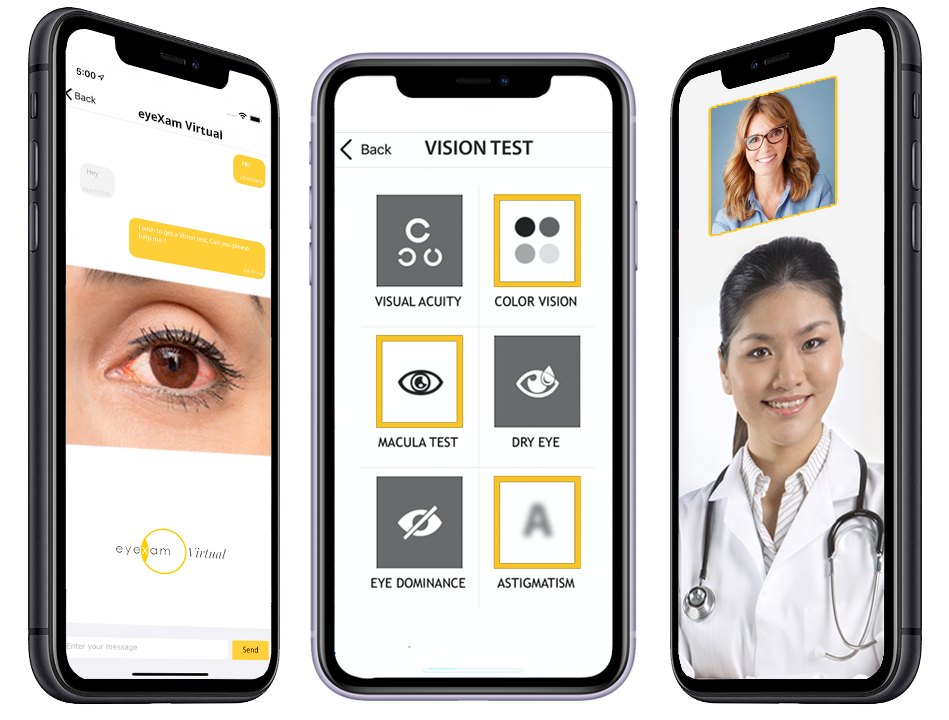 SAN FRANCISCO & SANTA CLARA, Calif., May 6, 2020 (Newswire.com) – EyeXam, the industry's leading and patented mobile app, and GenieMD, a global provider of telemedicine solutions offering an accessible platform for connecting patients and providers around the world, today announced a joint venture introducing EyeXamVirtual, to modernize the eye care industry with an accessible and best-in-class telemedicine mobile solution.
Together, GenieMD and EyeXam's resources will enable consumers easy access to eye care providers physically and virtually. GenieMD's mission is to democratize health care globally, and this partnership will elevate eye care into a new era of telehealth engagement. Consumers will benefit from unprecedented and effortless access to eye care and doctor engagement, resulting in superior eye health. The venture partners GenieMD's innovative telemedicine platform with EyeXam's proprietary and self-guided method for measuring visual acuity using a mobile device. The impact of this partnership will create an unparalleled and proactive eye care solution, leading to a better overall eye health experience for consumers.
"We are excited to team up with EyeXam," said Soheil Saadat, Ph.D., GenieMD's founder and CEO, "to deliver a unique telemedicine engagement model to vision care by combining EyeXam's patented technology with our world-class cloud computing, big data, artificial intelligence and mobile technologies to provide the finest and fastest access to eye care patients, when they need it most."
"We are grateful to partner with GenieMD," Nikki Iravani, OD, optometrist and EyeXam founder and CEO commented, "to optimize the existing EyeXam app and bring the best in class in telemedicine to eye care. COVID-19 presented challenging circumstances and increased the demand for patients to visit with eye care providers virtually. EyeXam's infrastructure and patented technology together with GenieMD's platform accelerated availability of virtual eye care for our patients."
About GenieMD
GenieMD, Inc. is an award-winning, global provider of telemedicine solutions. We offer a convenient, cost-effective, easily accessible platform to connect patients and providers around the world. We make the process seamless and cost-effective for patients and efficient for providers by using a targeted evidence-based intake questionnaire followed by a secure video consultation. Maximizing the potential of cloud computing, big data, artificial intelligence and mobile technologies, we are transforming health care to provide the best and fastest care to our patients, when they need it most. To learn more about GenieMD, visit www.geniemd.com.
About EyeXam™
EyeXam™ is the leading and patented mobile eye care app offering self-guided visual acuity testing using a mobile device. EyeXam's smartphone and tablet app (for consumers) and robust supporting cloud-based tools (for providers) are designed to empower patients and providers by engaging them instantly and conveniently with each other. To learn more about EyeXam, visit www.eyexamvirtual.com.
Media Contact:
info@eyexamvirtual.com
Read More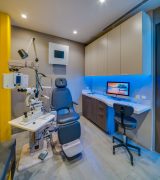 As published by Cory Hakanen, OD, MBA on newgradoptometry.com
Optometry is a thriving, progressive field. Or at least, that's how optometrists feel about it. But it's safe to say that visiting many practices feels like going back in time to the mid-1900s, where the optometry office design and equipment screams of antiquation. While the eye care field is rife with innovation and cutting-edge technology, that's not always what patients perceive between sitting on musty, vintage furniture and being challenged to choose "1 or 2" behind a phoropter that could have been taken from the pages of a steampunk novel.
It's time for ODs to step into the 21st century and showcase our practices like the modern clinicians we are. To illustrate a best-in-class example of a modern optometry practice, we'll be highlighting the private practice of Dr. Nikki Iravani, an experienced OD and eye care industry veteran who is able to keep things fresh with her unique insight and skills.
The Clinic/Retail Hybrid: Best of Both Worlds
Dr. Iravani's private practice — EyeXam — is based in Santa Clara, CA, right in the heart of Silicon Valley. Nestled in a cozy retail plaza between large, glossy tech buildings, the practice isn't far from powerhouses like Apple, Facebook, and Google. And while the majority of foot traffic into the clinic is patients, you may not necessarily know that EyeXam is an optometry practice at first glance. Situated between a lunch hotspot and a chic bookstore, its logo, storefront marketing, and open doors make it appear as if it were a retail shop like any other. Therein lies part of the beauty — it invites guests in without needing a reason like an eye exam.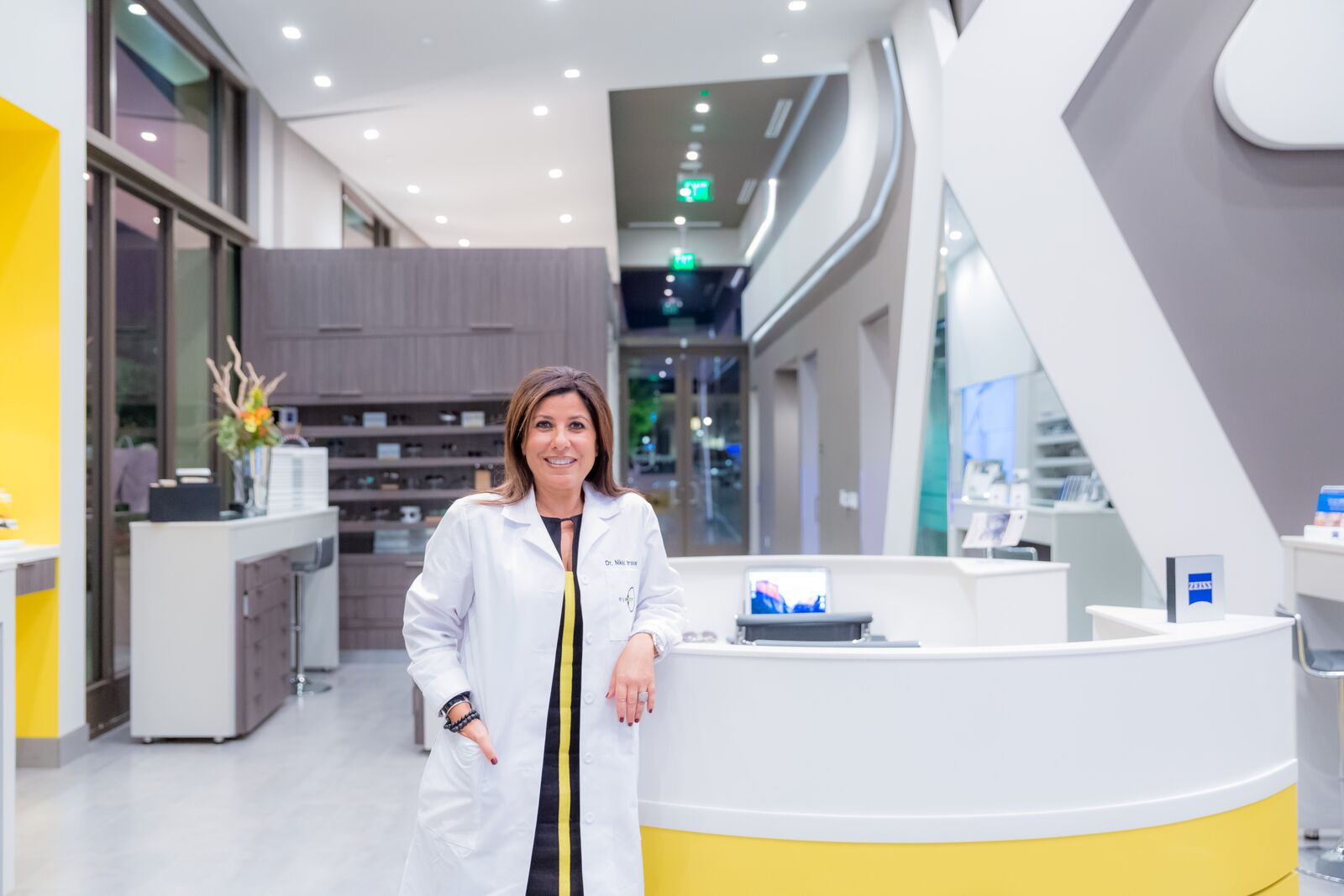 A Brief History
Dr. Iravani's unique approach to private practice didn't happen overnight; she has an impressive and multi-faceted resume. After graduating from the University of Houston College of Optometry, Dr. Iravani returned to her hometown in southern California after being offered a position as a Research Optometrist by Allergan during her last rotation in school. This kicked off an industry-focused career, leading to a series of industry jobs culminating in becoming CooperVision's Vice President of Clinical & Professional Affairs.
During this time, Dr. Iravani developed the mobile app "EyeXam," a self guided app that lets patients perform basic vision screening tests and helps them find nearby optometrists using geo-location. EyeXam was rated as the second-most downloaded app in iTunes' medical category, and still remains the eye care industry's leading mobile app. EyeXam was also featured on ABC World News with Diane Sawyer. Due to the app's popularity and Dr. I's entrepreneurial spirit, the first brick-and-mortar location of EyeXam was born.
Brand Appeal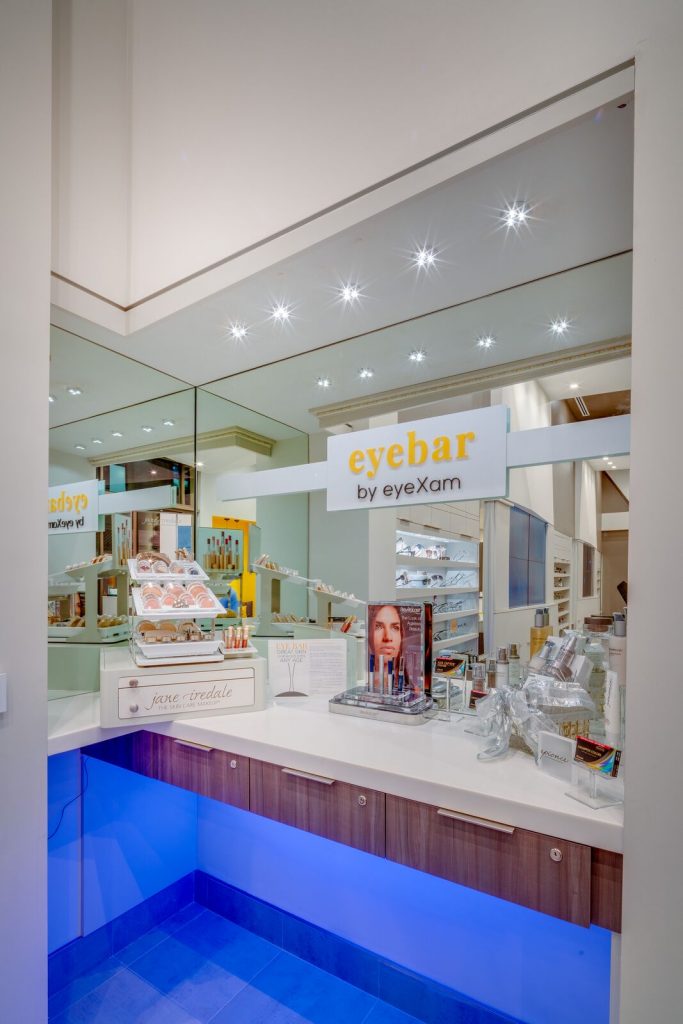 Walking into EyeXam is more like stepping into an Apple store than it is a clinic. With large, flat tabletops displaying frames through lustrous glass, bold highlights of yellow in the decorating scheme, and tablets everywhere you look, the show floor draws you in to experience eye care on an interactive level right away. Notably absent are an abundance of chairs or a waiting room; this is by design, to encourage patients and customers to explore and interact instead of flipping through ragged and outdated magazines. Tablets featuring proprietary apps are anchored on the tabletop frame displays, where patients can check-in, take a selfie while trying on frames, and more.
In one corner is the eyeBar, featuring the best eye and skin care products and high-end makeup, as well as color contact lenses and eyelash treatments. Another corner features the visionBar, offering multiple interactive vision screening tests and apps, including the eponymous EyeXam app. "Today's consumers and patients are drawn to new and engaging experiences," says Dr. Iravani. "Why not make the visit to the optometrist unique and refreshing? Our interactive environment really captures everyone's attention."
Overall, the clinic is an eyecare branding powerhouse. The name "EyeXam" alludes to offering optometry services, but a hint of mystery separates it from others that might be called "Smith Family Optometry." Even the exam rooms are branded, with the three lanes being named "Cornea," "Iris," and "Retina." The practice staff also have fun titles that break out of the old molds. "Cosmetometrists" are not only opticians, but also makeup and cosmetics consultants. "Optitechs" advise the best design of glasses for patients based on their facial structure, and also perform technician duties.
As a modern practice surrounded by tech giants, EyeXam also focuses on medical optometry, and is equipped with the latest gadgets such as an OCT and fundus camera. The doctors have a special interest in managing dry eye and fitting specialty contact lenses, so the practice also utilizes advanced clinical equipment such as the lipiscan and lipiflow. Inside and out, it is clear that every detail has been carefully curated, and that technology, fashion, and effective marketing create the flair of a truly modern optometry practice.
The Benefits of a Young OD to a Modern Practice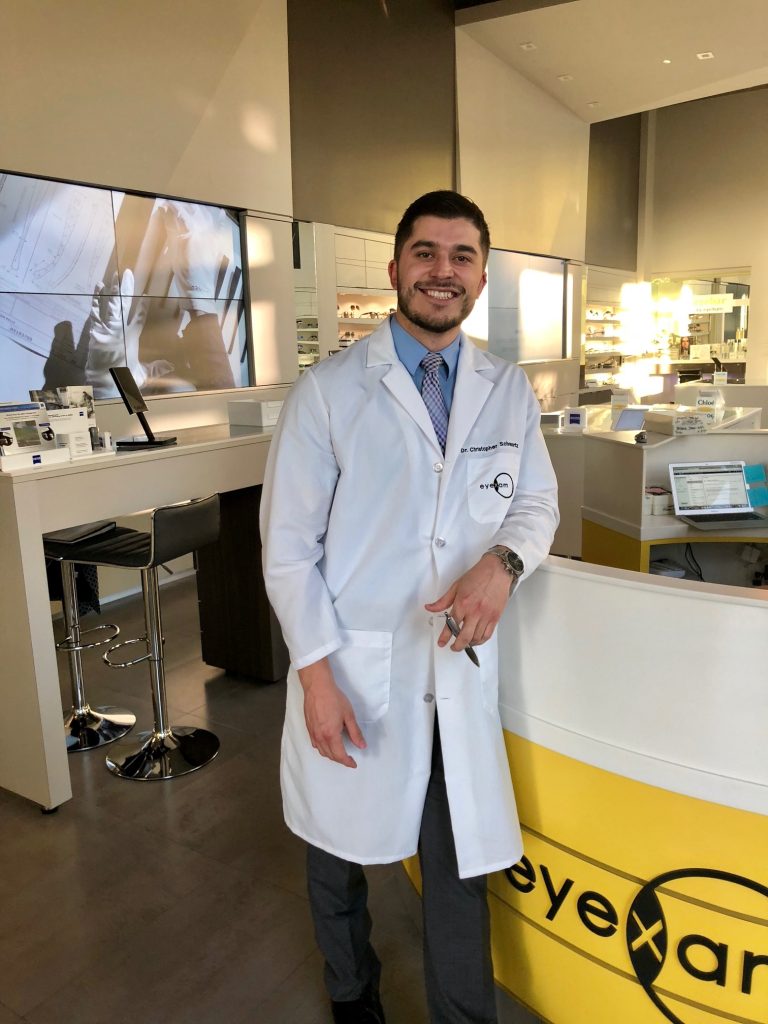 Running a contemporary clinic isn't without its challenges. This is great news for newer ODs, who are able to capitalize on cutting-edge skills, a knack for technology, and youthful energy. While Dr. Iravani has decades of experience to draw from, she specifically sought out a young optometrist when looking to hire an associate doctor — despite knowing many seasoned and highly experienced colleagues also looking for work. "It is not only my observation, but rather a known fact in our profession that recent grads' training is much more advanced in many areas such as glaucoma," she says. "I wanted to complement my industry, business, and contact lens background with a young OD's strong medical training."
Dr. Chris Schwartz, who graduated from the UC Berkeley School of Optometry in 2015, joined the practice because he believes in the need for optometric clinics to distinguish themselves in order to create memorable, positive experiences for patients. "Being in the heart of Silicon Valley, many of our patients are very receptive towards applying the latest advancements in eye care," says Dr. Schwartz. "Many of them have exceptionally strenuous visual demands, and are looking for doctors that can address their unique needs. EyeXam is well positioned to fill this need by offering some of the latest in refractive and diagnostic technologies. Patients know that when they come in, they will receive top-of-the-line eye care that they will not find many other places."
Regarding his work with Dr. I, he says, "I have found Dr. Iravani to be an invaluable source of entrepreneurial wisdom, as well as a mentor for general eye care business principles. Her extensive experience across a wide range of eyecare related fields gives her a great deal of perspective on the optometric profession as a whole." "Dr. Schwartz is not only a great doctor, but also a great team player," adds Dr. Iravani. "He is always motivated and enthusiastic about adopting new ideas," which are essential to positioning EyeXam as an industry leader.
Desirable skills such as specialty contact lens fitting, medical model practice, and binocular vision are quite valuable to the modern practice, and young ODs are uniquely positioned to help these practices grow. Even skills outside of clinical care — like the ability to help a practice brand itself on social media — yields dividends to the practice owner. Drs. Iravani and Schwartz use their complementary abilities to provide a wide range of eye care, brainstorm clinical and business ideas, and create a memorable experience for patients.
The Future is Now
Leaving a lasting impression with patients and customers is a must for any successful optometry practice. EyeXam is a great example of effective marketing, patient care, and a modern customer experience, and it can help inspire practice owners to make the jump from old, outdated clinics into the brand-savvy, high-tech, patient-oriented world of the 21st century. Optometrists continue to progress in clinical scope and abilities, and as an industry, our practices need to keep up.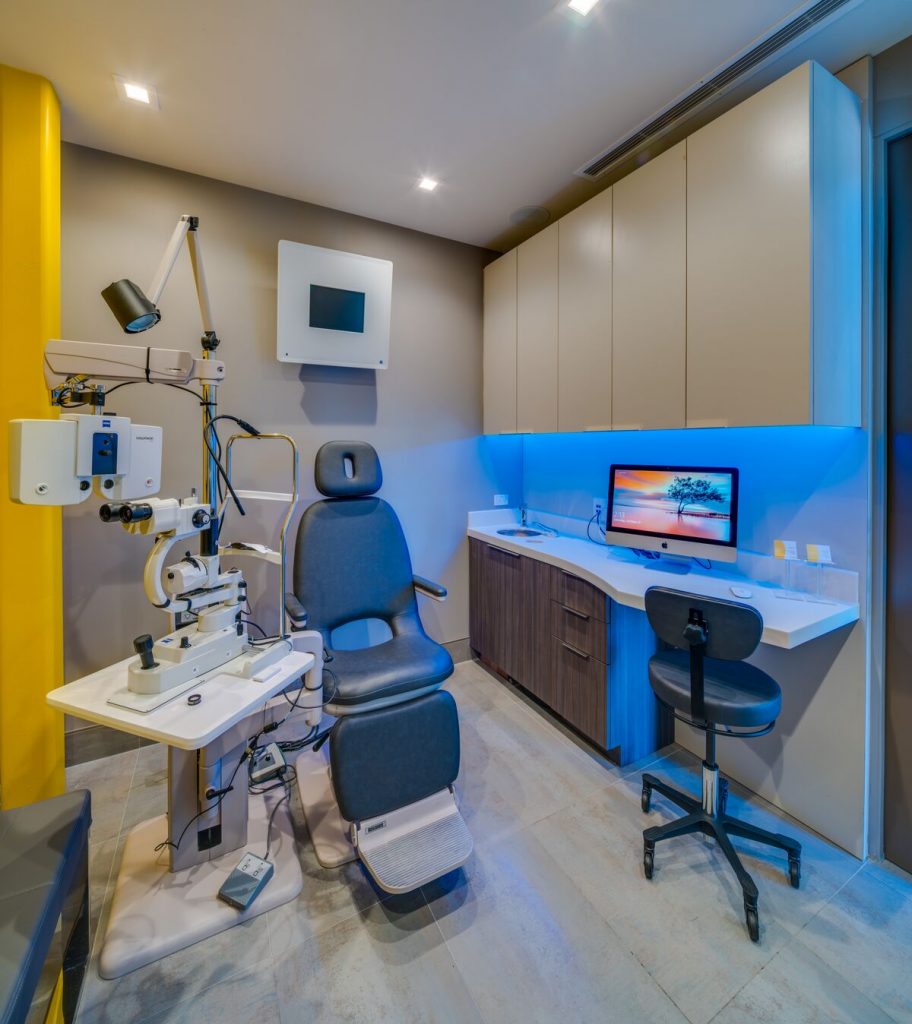 Read More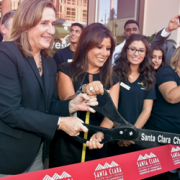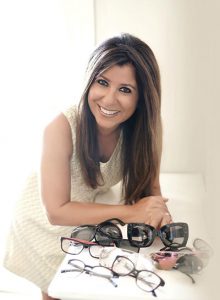 To say that Nikki Iravani, OD, is interested in technology is an understatement. After being vice president of clinical affairs and professional services for CooperVision, she developed the EyeXam™ app, an industry-leading, patented mobile app that offers a self-guided vision screening and GPS-enabled doctor locator.
So it's no surprise that when she decided to open her own practice, it had to be a technology-focused center. Her brand new practice, EyeXam, in Santa Clara, California, is in the heart of the Silicon Valley and headquarters for many of the major technology companies. So she set out to create a space that is as focused on a "high-tech/high-touch" experience. "I'm passionate about eye care, everything about it—the clinical experience and the patient engagement," she says.
She became familiar with the Vision Source® leadership when she was in the corporate world and saw how hard the leaders worked for the members and how much the vendors valued the Vision Source network. It made much more sense to her to open as a member of the network than to go out entirely on her own.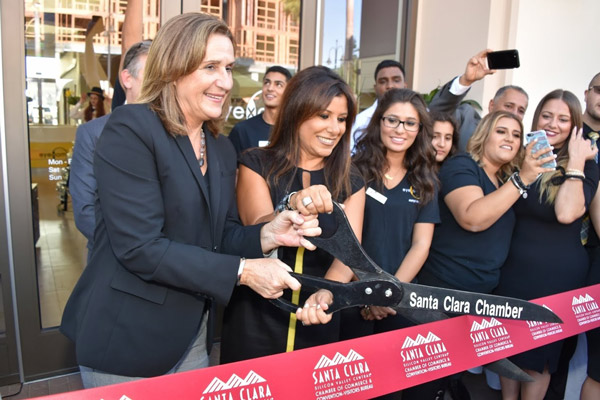 Browse technology
What she has created is the flagship EyeXam location. (Her grand opening, titled Glasses Up, was held in August.) It was built on the idea of having a physical space for the EyeXam app. Patients and visitors are greeted by Xams, her term for technicians who can check them in, show them around, encourage them to browse and respond to their specific needs (similar to the genius concept at Apple stores). When patients walk in, they can walk up to the visionbar to experience the different screening tests on the EyeXam app and other self-guided tests.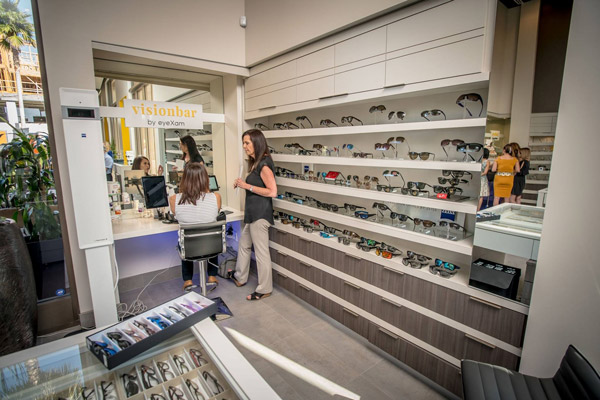 These self-screening tests do not take the place of her comprehensive vision exam, but the idea is to introduce patients to technology. Again, there's some similarity to an Apple store. "I wanted to create an environment where shoppers can be introduced to the latest advancements in eye technology. It's an experience. It's just like the Apple store. Not everyone who walks in wants to buy an Apple watch or iPad that day, but because they've had a chance to play with the technology, that's probably where they'll come shop," she says.
Educate and entertain
"I wanted to blend vision care with technology, medical service and fashion from the latest designer brands. At our eyebar, patients can try on colored contact lenses and receive makeup tips for their new eye color," she says. She's hired a makeup artist to help any patient who says, "I didn't put on any makeup today, so I don't want to shop for new frames. I'm not looking my best." The makeup artist solves that problem, plus she'll provide tips for makeup or eyebrow strategies that enhance the frame selected.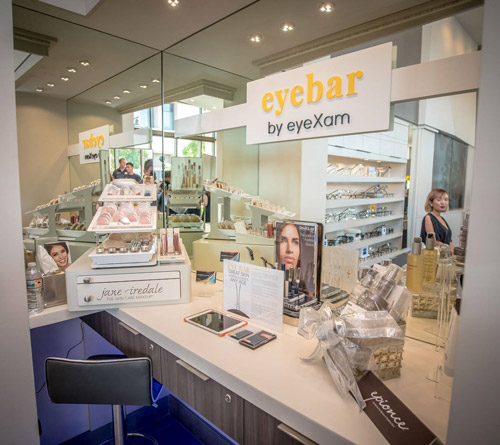 Large video panels on walls display educational and fashion-oriented video loops. As patients walk around, they're learning about treatments for dry eyes, the latest designer brands and more. "It's eye care meets Apple meets fashion and beauty," she says. And it's an experience unlike any other.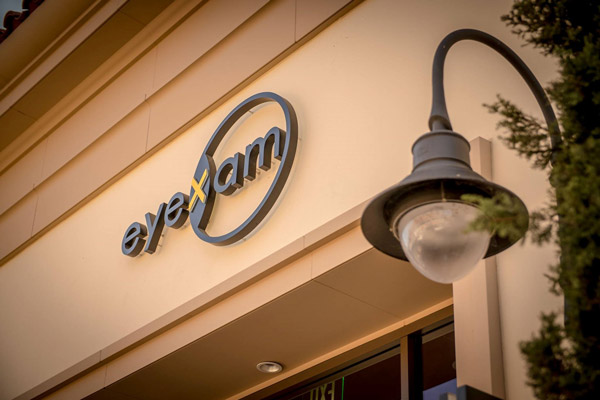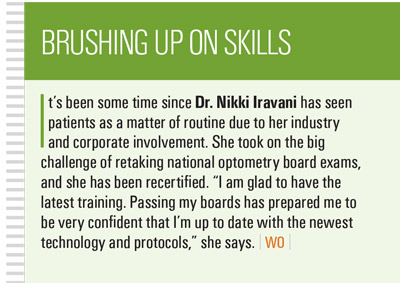 Read More